Maintaining an up to date backup of your website both on and offline is an important part of owning a website. If there is ever any issue with a plugin update, theme update, security breach, hack, password breach, plugin conflict, or any number of other reasons, then being able to restore a version of your website from a recent WordPress Website Backup is hugely important. To make this process as simple as possible we have set your website up with Updraft backups. In the following steps, we will briefly explain how to backup your site and make sure that it stays healthy, fast and secure. If you have purchased a WPDesigns Support & Maintenance Package then this will be done automatically for you and there will be online and offline version created.
For added safety, I will often run a backup of the site once it has been completed but I would recommend running it yourself to gain an understanding of how to do it in the future.
It should be done as often as needed, for example, if you update your website every day then it should be done daily, updated once a month then monthly.
To create your WordPress Website Backup you must be on the WordPress Dashboard, if you are not here you can add /wp-admin to your domain URL to be taken there (or to the login screen if you have not already logged in).
Once at the Dashboard look to the left-hand side menu and hover over "Settings", then click "UpdraftPlus Backups".
When you are on the Updraft Backup page you can look to the right to see the large button marked "Backup Now". Clicking this button will securely create your WordPress Website Backup.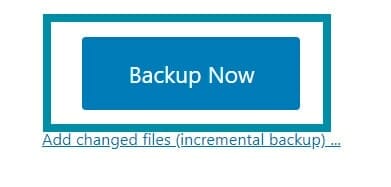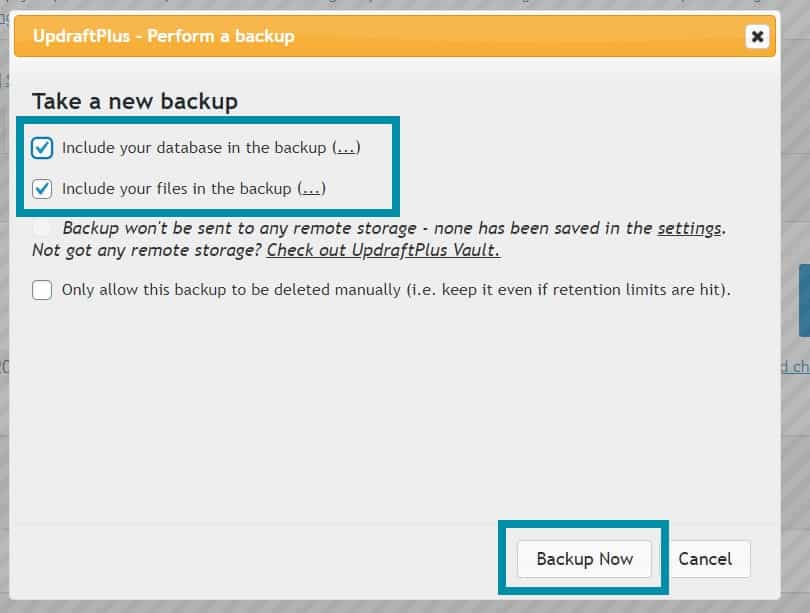 Make sure to tick the top two boxes to backup both the database and the files.
After the backup has been completed you should download the files it creates to your computer so that you have both an online and an offline copy. To do this simply click the files it creates under "Backup data (click to download)" and you can directly download them to your computer. Having an offline copy is important because it will be there if anything was to happen to your site, it is a point of safety to which you can return. Having a virtual copy is useful to restore the site for a minor issue but if it all goes wrong then an offline backup should save it.
After the WordPress Website Backup has been created and you have downloaded the offline files, it is worth having a look at how you can also restore the backup too.
In order to restore your WordPress Website Backup using Updraft, you need to look under the "Backup Now" to see the created files. The smaller blue button marked "Restore" will let you bring your site back to the state at which it is in that saved backup file. Simply click this button and follow the on-screen instructions.
Select the areas of the website you wish to restore and click "Next". This will automatically run through the restoration process and bring the site back to the earlier state.